Abbeyfield
Abbeyfield Farm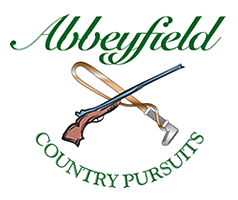 I am going to start this blog entry by highly recommending Abbeyfield Farm if you are interested in country activities such as clay pigeon shooting, archery, pellet rifle shooting or horse riding. Our guys, being dyed in the wool bikers, are not interested in horses. They are for squids. They are only intersted in riding motorcycles and eh, well em...... more motorcycles. Horses are for betting on, making glue or eating, if you are French. Burger au Cheval. Delicious.
Abbeyfield was our inaugural "mystery trip" destination. The entire experience can be explained in one word. Fun. When we arrived we could not wait to get our hands on the shotguns. The instructors are highly professional and as you can imagine, shooting is dangerous without the proper tuition. The guys were strong on safety and made sure all were vigilant. Before long the lads had us competing at different types of clay shooting in two groups. They managed to improve our skills and there was a strong emphasis on the craic and having a good laugh. A great and safe introduction to the sport.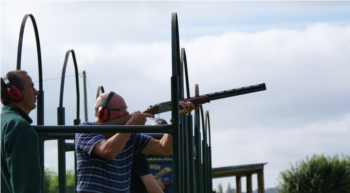 When we ran out of ammunition, it was time to try out the archery. Again, once we had learned about safety, it was time to loose lots of arrows. Our practice was followed by another well organised competition. I have to say the tutors are very inventive at making competition interesting and seriously good fun.
We spent a good two hours at Abbeyfield farm. I am still not sure who enjoyed it the most. Our group of scruffy bikers or the staff. This farm is a busy spot. When we were riding off into the sunset the horse riders were setting off for their practice as well. It looks interesting but I am sticking to engines. You don't have to feed them , they are not as temperamental and they don't poop at random.
This is the nearest legal experience to Dodge City you will ever get. Well worth the time and investment.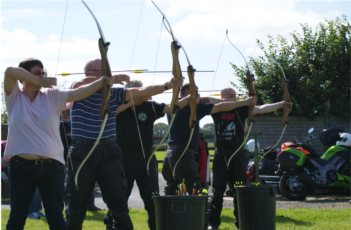 Check out their website for more information. www.abbeyfieldfarm.com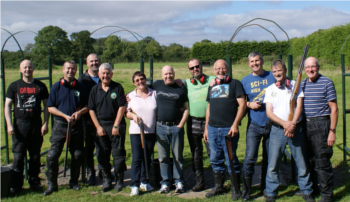 Dubmark
You are here:  

Dubmark's Articles