2018
PLEASE CHECK HERE TO SEE IF A SPIN IS ON. WE GO OUT PRACTICALLY EVERY SATURDAY, WEATHER PERMITTING.
I WILL ALSO UPDATE IF SPIN IS CANCELLED (OR IF WE SWITCH TO SUNDAY) OR IF THERE ARE ANY LATE CHANGES IN PLANS.
If Sandra and I are heading off anywhere, I will post details (below) of where and when we will be stopping to fill up so that anyone who wants to tag along is more than welcome to join us there. But it is up to each individual to decide to come on a spin and it is your own decision and responsibility if you choose to follow whatever route we or any other rider in the group takes to any particular venue.
IF YOU ARE COMING FOR A SPIN, PLEASE LET ME KNOW AS I MAY NEED TO BOOK VENUES IF THERE ARE LARGE NUMBERS TRAVELLING. PLEASE TEXT ME IF YOU NEED TO CONTACT ME AFTER NOON ON FRIDAY.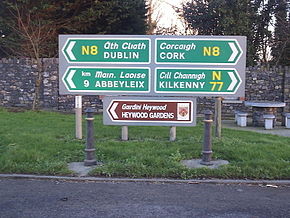 Saturday 17th November 2018.
Spin on this weekend !!! The weather forecast for the weekend is looking okay so Sandra and I hope to take a spin to Altamont Gardens, just past Tullow. Probably stop to fill up at Circle K on the N81 Tallaght at 10:00am and have breakfast in Bia Blasta, Blessington.
All welcome to tag along!!! Just let me know if you are coming.
Regards,
Alan L.