2018
PLEASE CHECK HERE TO SEE IF A SPIN IS ON. WE GO OUT EVERY SATURDAY, WEATHER PERMITTING.
I WILL ALSO UPDATE IF SPIN IS CANCELLED (OR IF WE SWITCH TO SUNDAY) OR IF THERE ARE ANY LATE CHANGES IN PLANS.
If Sandra and I are heading off anywhere, I will post details (below) of where and when we will be stopping to fill up so that anyone who wants to tag along is more than welcome to join us there. But it is up to each individual to decide to come on a spin and it is your own decision and responsibility if you choose to follow whatever route we or any other rider in the group takes to any particular venue.
IF YOU ARE COMING FOR A SPIN, PLEASE LET ME KNOW AS I MAY NEED TO BOOK VENUES IF THERE ARE LARGE NUMBERS TRAVELLING. PLEASE TEXT ME IF YOU NEED TO CONTACT ME AFTER NOON ON FRIDAY.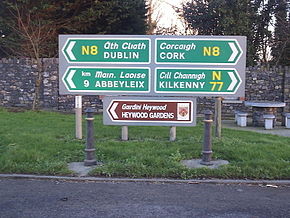 Saturday 19th May 2018.
Hi,
Sandra and I are heading to Ballaghmore Castle on Saturday - it's between Roscrea and Borris-in-Ossary. We will be stopping to fill up at 10:00am at Maxol/McDonalds in Lucan and will stop at Scanlon's in Kinnegad for breakfast (for a change from Mother Hubbards). From there, we will go via Kinnegad to Kilbeggan (passing Miltownpass and Rochfortbridge) and on to the N52 via Tullamore. Just past Tullamore, we can either continue on the N52 to Birr or go the R421 via Kinnity straight to Roscrea. (It's the N62 from Birr to Roscrea if we go that way). Then we take the R445 (N7 Dublin road) from Roscrea towards Borris-in-Ossary. Ballaghmore Castle is a few miles outside Roscrea on the left heading to Borris-in-Ossary.
The return route is to continue to Borris-in-Ossary on R445 (N7) and head to Mountrath. From there, we have a choice - head to Portlaoise and motorway or go the back roads to Mountmellick, Portarlington and on to Monasterevin/Kildare/Newbridge and Naas and maybe across to Blessington. We can decide on the day.
LET ME KNOW IF YOU FANCY JOINING US. Thanks to everyone who got back to me yesterday. There are loads not available BUT A FEW HAVE YET TO GET BACK TO ME. As I'll need to book breakfasts and the castle tour, I'll need to have definite numbers. So, I'd appreciate it if you could get back to me ASAP !!!
NOTES:
With JR's informative warning about the recent increase in motorbike theft, you may want to consider bringing a lock.
Check out www.castleballaghmore.com for information.
Tour Price is €5.00 per person.