Remember any of these past members ??
The CRRG is now in its 10th year. Hard to believe that it was way back in 2009 when it all started. And there were only a handful of members then - Paul C, Derek, Mark H and myself to begin with. But we were quickly joined by the Road Racing followers and a few more riders. And we thought back then that Trim or Mullingar or Wicklow town were far spins !!!
We have had an incredible 93 riders join us for spins in those 10 years. But I wonder how many of the current 2019 members will remember the following ex-members ???
2009
Gary L. - rode a Suzuki GSX650F before changing to a lovely black Honda VFR800. Loved getting out and came on about a dozen spins until he stopped in 2013. Now has a Kawasaki Z1000SX but he can't be tempted to come out again.
Sam Kelly - rode a Repsol Fireblade (or "Respol") as he called it! Very funny guy and loved the road racing. Excellent on the bike. Family life and grandkids put an end to his motorcycling days, sadly.
Alan Marrey - A quiet man who also rode a Fireblade (red) and a good mate of Sam's and a fellow road racing fan. Great on the bike too and especially around corners !! I'll always remember a spin down the N81 with him behind me as the 2 Fireblades sped towards Tullow. He didn't get time to come out with us very often as his kids (and himself) were big into rugby.
2010
Kevin Delaney - another mate of Sam and Alan Marrey from the road racing supporters. Rode a Fireblade too before switching to a Gixxer 1000. Nice bloke and mad as a hatter !! I'll always remember the day he came with us to Abbeyshrule and you could see the actual threads showing through in his back tyre but he was still hoofing along!
Pat O'Connell - not sure who introduced Pat. Rode an older VFR 800 (red one first, then had a green one) before buying a brand new Kawasaki Z900. Was a fairly regular rider for the year or so that he stayed in the group. Never found out what became of him.
2011
Silvio Bulai - rode a Yamaha R1. Talk about crazy - he was popping wheelies all over the place! Thankfully, for his own and the group's safety, he decided to stick to the race track and bought a track bike instead. Nice bloke and he enjoyed the few trips that he joined us for and overcame his fear of birds !!
Dermot & Claire - a very popular and well-liked couple on their silver Honda Pan European. Hardly ever missed a spin. Dermot was a good laugh and Claire was a real "chatterbox". Unfortunately, they stopped coming out after the France trip. A big loss to the CRRG.
2012
Dave Iremonger - one of my favourite riders. Met him while going over the hills behind Carlingford. Nice, quiet man who was even more into bikes than me !!! He rode an older BMW GS1000 and then a string of other bikes including an old KTM Adventure. Loved heading off on long bike trips on his own or with a couple of mates. He was to go on a trip with a few of the CRRG lads (Gordon and Mick maybe?). The biggest breakfast we had ever been served was arranged by Dave - his ex-wife worked in a bar/café in Kingscourt and we stopped there one morning. Nobody could finish it and it was "doggie-bags" all round. Unfortunately, work took him to the UK.
The Doyle brothers! Mark and Jason were enthusiastic members and regular riders at first. That was before Mark got into feckin Landrovers and Jason's business went through a rough patch. Jason sold his beloved Triumph Tiger 1050 but later picked up an older Tiger for a steal! Mark still makes the odd appearance on his red BMW R1200GS and has a great, dry sense of humour. If there's an overnight with drink involved, he'll be there!!!
Rob - a mate of Mark H and rode a few different older bikes (until they broke down). . Between having a young family and studying, he didn't get out too often. Nice bloke and enjoyed the trips whenever he got the chance.
Marco - the CRRG's first Italian rider!!! He arrived on a fab BMW S1000RR. Excellent on the bike too and could handle it. In typical Italian form, he regularly turned up on a freezing cold, damp moring in a tailored fit light leather jacket and jeans !!! He was a regular rider for a number of years until his work took him back to Italy. He came back from Italy with a practically new Ducati Panigale which was beautiful but totally impractical for commuting or spins. Then he swopped it for a GSA and joined us on a couple of spins. He now has a wife and kid so his biking days have been cut short.
2015
Martin Y - better known among CRRG members as "Chatty Man Martin" ! Came out on a few spins on his immaculate Honda "Dull-ville". He had never been outside Dublin previously....... Never short of a word or a story. Surprisingly very good on the bike though, despite his lack of experience (and very strong glasses!!). He really enjoyed the trip to Christy & Ger in Rosslare but was annoyed about being left to find his own way home from the motorway at Kilmacanogue.............
Aidan - Colm's uncle from Athy. Worked most Saturdays so didn't get out with us on many spins. Rode a BMW GS before switching to the previous model BMW R1200 RT. Nice quiet man and good on the bike too. Seemed to enjoy the few times he actually managed to come along. But really bad with technology and seldom used e-mail or text messages. For that reason, I am not sure why he just stopped coming out!!
An American BMW K1600GTL rider meets a novice...
This is a true story from a friend of mine in Florida. Just thought that it is so well written. And I got a great laugh reading it. So I just had to share with the Group. Enjoy ! (And let me know what you thought of it!)
Get your motor running...
George has been my neighbor for over twenty years. We are not and never have been close. He is, and in my opinion always has been, a very odd duck. I say 'odd.' Other neighbors might use more colorful language. But George has never crossed me, borrowed tools he didn't return, or in any way been a bad neighbor. He hasn't been a good neighbor either. George doesn't pitch in and help other people when there's storm clean up to do. George doesn't walk across the street to trade stories or offer his wheelbarrow if you're seen moving dirt. Others do, but not George. Nor does he ask you over for a beer or once year or ever invite you and your wife out for lunch. That kind of stuff is pretty common in our neighborhood. But not for George (or his wife Gina). She'd probably do some of these kinds of things if left to her own devices, but the consensus is that George forbids it. Additionally, George is a drunk and a pothead. I have no moral objection to these activities. I just don't usually enjoy the company of drunks or potheads for more than a few minutes at a time. 'Do your own thing' is my philosophy. Just don't expect me to do it with you.
George and his wife went into business with another couple in the neighborhood about fifteen years ago. It lasted only five years and ended in a bitter falling out amidst accusations of embezzlement and other financial shenanigans. Since then, these two couple have not spoken and the neighborhood has had to choreograph events and invitation lists to keep the combatants apart. It's been fairly easy because the other couple are generally fun people who've always had active social ties with everyone around here, while George and Gina have never been well connected or much interested in hanging out with the neighbors. Which is fine with me. I'm only slightly more sociable than George is.
But, after the business blew up, George became bitter and even more isolated. And apparently he has rewritten history to explain and blame his isolation on the neighborhood siding with his ex-business partners in their long-ago dispute. In fact, he had little to do with any of us before the dissolution of that business and most of us didn't care all that much who did what to whom or who said what about their business troubles. None of us hade any interest or motivation in taking sides. So, aside from waving at George across the road occasionally, I never gave the man much thought for the past several years, until the other day.
I was working in the backyard when I heard a motorcycle start nearby and then I heard it try to get underway. It sounded like the operator couldn't get it out of first gear. I wasn't focused on it, but I knew it sounded wrong. Then, silence. I returned to my work for a few minutes, maybe five, maybe ten - then I walked around front to get a shovel. When I did, I saw a motorcycle tipped over on the curb in front of my next-door neighbor's house with the rider trying in vain to get it upright. This guy had no clue how to begin to get the job done. I had no idea who it was, but after watching him for a few seconds I walked over and offered him a hand. You guessed it: under that new motorcycle helmet was George, sweating and wild-eyed and, as it turned out (though I didn't realize it at the time) drunk. Maybe stoned too.
He'd thought it was a good drunken idea to try to get to know his new Triumph "American" 800 an hour after he took delivery on it, after not having ridden a motorcycle since he was in his twenties. George is now probably seventy years old. Oh, and I should add, he bought the bike before taking or passing his basic motorcycle safety course and his half day of on-bike training. This consists of popping around a supermarket parking lot on a Honda 125 practicing stops and starts in a straight line under close supervision. That rigorous training was still some days in George's future when I walked over to offer some assistance with his downed motorcycle. All of those good decisions led to the following scene on my neighbor's curb:
I said hello. I asked if I could help. He started cussing the throttle adjustment on the bike. I showed him how to get the thing upright. He looked in danger of having a coronary. He stammered that the bike was new to him and while he had ridden as a boy, there was something wrong with the throttle set up on this thing. His eyes did not seem to be well focused, but I never jumped to the correct conclusion. I hadn't said this much, or heard this much from George in years. But I did say this: You're obviously pretty excited. Now probably isn't a great time to continue your test drive. Why not just walk it the 100 feet back to your driveway and take a break? Calm down awhile. Try again tomorrow, right?
No. He didn't want to do that. Wasn't going to give up. I said I thought that's a bad idea, but it was his neck and his bike. He then said he was just going to take it down to the end of the street and turn around and come back. I said, go slow, stay in first gear and be careful. He said nothing and pulled away haltingly. Forty-five seconds later he was out of sight. Five minutes later, he wasn't back. So, reluctantly, I got my car keys and went looking for him. Within sixty seconds I saw him down the road, apparently having just been helped by some stranger to get the bike up after dropping it a second time. I went around the block to get headed back home and when I got back to where George had been thirty seconds earlier I found his other good Samaritan standing in the road looking down the way after George with obviously justified concern.
I drove back towards our homes. By the time I got here less than a minute later, George had dropped his bike a third time - this time in his own driveway – after missing his turn-in, jumping the curb and crossing thirty feet of his neighbor's lawn. I parked in front of my place, got out and walked over. He was still going on about the throttle being set up wrong. I helped him get the bike up again. On this last fall he broke his front brake lever, his right foot peg and mashed his right exhaust up against his rear chain sprocket. George was now even more freaked out, agitated, trembling, embarrassed, mad and miserable. I found a length of wood in his garage and pried the exhaust away from the rear sprocket. Then he asked my to get the thing into his garage for him, which I did.
Standing in his garage staring at his motorcycle is when he told me Gina was divorcing him after thirty years and had moved out in the past week. Even aware of George's reputation as something of an idiot, I was surprised and maybe felt a bit of sympathy for him. I thought then and still do that maybe life has become a pretty constant reminder to him that he'd become a screwed-up mess. That's not an easy pill to swallow, no matter how much beer you try to wash it down with. So, I told him I was sorry about the divorce. Told him bike still looked great and told him he probably ought to stay off the bike until after repairs and his training were completed. I offered him the name of a good towing service for bikes if he needed to get his in for service. And then I started to walk away. He said thanks. And hey, maybe we can go for a ride sometime? And, curse me Alan - I said - sure.
Head out on the highway...
Maybe a week later George saw me working in my garage as he drove by and pulled into my driveway. He got out and said, hey I finished my class, got my license and I rode my bike to work yesterday. I'm feeling a lot better on it. That's great, I said. Hey, he said - do you have a battery charger? I left my key in the on position last night and I drained the battery... As he asked this he was looking past me into my garage where my bike was hooked up to my battery tender, which I connect whenever I am not riding regularly. Yes. Sure. No problem.
Then he said, do you want to go on a ride tomorrow? I've got an hour or so tomorrow morning...
Man. I really did not want to hear that. Nor did I want to say 'yes' to that. But, I didn't have a lie ready and, part of me wanted to help this guy get a ride in. But. But. I did not want any involvement with this guy's obvious problems operating more bike than he was ready for. But, I said yeah, sure - but just an hour - right? I mean, how bad could it be? One hour? Especially if I kept him out of traffic way out in the country? It should be fine. Right?
Looking for adventure...
So we agreed to meet out front at 9:00 the next morning. That night I checked out my bike, adjusted the tire pressures, did the whole walk-around, cleaned the wind screen and my visor and my mirrors, made sure I had fuel and oil and all that – because if I do all that nothing can go wrong. Or, that's my hope.
The next day I'm encased in leather and cordura at 8:55 a.m. while George shows up in jeans, a t-shirt and boots. He is wearing a helmet though, but no gloves. Before we leave I ask him to give me the phone number of who he wants me to call if something goes – uh – wrong during our ride. He scribbles Gina's cell phone number on a scrap of paper for me and, after I describe the route for him, off we go.
And it goes pretty well for about fifteen or twenty minutes. I lead him out in to the countryside heading for a little town named Center Hill. A few miles outside of town I looked in the rear view mirror and saw him rapidly falling back and then pull over to the side of the narrow two-lane road. There are no good places to make a U-turn, so I ride on until I find a better spot a quarter of a mile up the way. I turn around, go back and find George parked in the maybe 30" wide bike lane next to the soft, wet, grassy shoulder of the road, separated from the active truck route by a four inch wide stripe of yellow paint. I parked twenty feet behind him, put on my emergency flashers, got off the bike, de-helmet and walked up to George and said - uh - what seems to be the difficulty?
George says, I think I'm out of gas. Sigh. Much silent cursing inside my head. Then -
OK. I then suggested my new best friend to walk his bike 50 yards up the road where there's a wider cut in the shoulder of the road where he can get a little farther away from passing traffic. I also suggested he not to try to make it into town even if he can get the bike restarted because he could possibly stall again in an even worse, more dangerous spot (and that could endanger me and my bike when I get back...) So George – please stay put where I'm putting you and I'll go get some gas and come back as soon as possible. Pretty simple, right?
He walked his bike up to the wide spot farther off the road and I then rode the last few miles into Center Hill. I found a store. I bought a small gas container ($13 and change). Then I rode on and found a gas station, paid to pump a gallon into my new container - but before I could get the cap unscrewed - George pulled up. He had decided to "go for it." I just sort of stared at him in disbelief. Stifling my impulse to say why the hell didn't you stay put(?) instead I muttered 'you get gassed up. I'll go return the gas can.' OK. Great. I rode off to do that. Ten minutes later I was back. George had taken on fuel and, in theory anyway, we were ready to continue. Follow me I said as we pulled out of the gas station heading northwest, pointed towards the town of Okahumpka.
What followed was a blissfully uneventful stretch of mostly straight, moderately scenic road through agricultural countryside. All fine. And I started to relax a little. But, not only has our one-hour time budget for this ride already gotten messed up, threatening dark clouds are quickly gathering overhead. Early in the day for that - but certainly it won't rain, right?
And what ever comes our way...
First just a few drops on the face shield and windscreen. Then a steady light, rain. Then a steady rain. By the time we got to the State Road 33 (north to Okahumpka, south to Mascotte) I decided this trip was snake-bit. It was raining pretty hard by then and I had lost all interest in babysitting a new rider who was not very good on dry pavement, let alone in rain on wet roads. So, I turned south towards Mascotte - which is the way home once you get back to the south end of the county.
Three or four miles down the road, as it continued to rain harder, I decided to pull over in order to get my phone out of its handlebar mount (and out of the rain) and into my pocket. I don't need my phone to go the way of my helmet camera. So I signaled, slowed down and gently eased over into the wide expanse of smooth, new asphalt that is the entrance road to "Happy Pines" (or something like that), a real estate development "OPENING SOON". I stopped, I put down my kickstand, I looked around and saw that George has pulled in behind me and promptly dropped his bike again. In the pouring rain. He's standing off to the side of it, unhurt, looking at the bike like a monkey trying to figure out a bicycle laying on its side.
I don't know if his foot slipped on the wet pavement, or what. I didn't even care by then. I just wanted this over with. So I shut my bike off. I de-helmeted. I extended his kickstand and I hoisted his bike up because although he had watched me a week before pick up his motorcycle twice, he was drunk then and wasn't watching me with an eye toward learning anything from his mistakes or my own hard won mastery at picking up dropped motorcycles. I got the bike up. His right hand rearview mirror was busted off. His right exhaust was (once again) brushing his chain sprocket. I used a wrench from my tool kit to pry the exhaust just far enough away from the rear wheel that it could turn without interference. I put my stuff away. We weren't talking much at this point because, you know, I'm wet and overheated and sort of pissed off and he's embarrassed and upset, as well. But I did manage to say that I thought we'd used up our hour and given the rain, maybe we should just head for home? He was fine with that.
The next twenty-five minutes were blessedly boring. The only thing of any note that happened is the farther south we rode, the better the weather got. By the time we passed through Groveland the sun was bright and steam was hissing up off of the wet road surface. By the time we got to Clermont the ground was dry. Fifty feet short of his driveway, directly in front of my own, George (now ahead of me) stopped in the middle of the street and waited for me to pull alongside. I did. He said thanks, that was fun. I just kind of looked at him. I thought maybe I'd misheard him. Maybe I nodded at him. I'm not sure.
Born to be wild.. .
I said, I'm going to print you out a copy of a diagram I have that shows step-by-step how to pick up your bike when it's laid over. In case you ever need it. He said thanks again. Which was the right thing to say I guess. Then, we went our separate ways. Me to tell my wife about my ride with George. And, George, I suspect, to have a few beers and price new rearview mirrors online.
Alan, I never appreciated what a brave and patient soul you must be to ride with a group every chance you get. And, beyond that, to seemingly enjoy it?!? For my part, I'm not sure I don't have PTSD now. What's certain is this: I need to have an alibi ready if another invitation to ride together comes my way...at least until my neighbor gets a few uneventful miles under his belt. In the name of full disclosure, at the beginning of the ride I gave George a gift (actually a "re-gift".) I gave him that little nylon emergency medical info pouch that you had given me some time ago. I have a dedicated, marked pocket on the front of my jacket's left sleeve where I have a laminated card with all my vital statistics. I felt George could use the extra one you gave me more than I needed it. The problem is, I doubt George will fill it out. And if he does, I doubt if he'll remember to take it with him when he goes out for a spin. What he really needs is a St. Christopher's medal blessed by the Pope. Twice. Then George needs to remember to wear it.
Pat & Ger's Trip to The Lakes, Dales and Liverpool
We took an early Ferry from Dublin to Holyhead. It was an uneventful ride across North Wales on the A55 allowing one pit stop before the M6. Luckily the temperature rose with a clear blue sky. Off at Exit 36 on to A590 to Newby Bridge just south of the Lakes. The mercury had reached 24C by now. Happy days.
We headed north towards Windermere, our base for the next two days. We checked in at our B&B, consulted with our host and decided that the Kirkstone Pass would be a good place to start our exploration of the Lake District. As we headed up the A592 we passed through Rydal and the gorgeous Grasmere. This would be the first stop on our little literary trail paying our respects to William Wordsworth, buried in the local cemetery. We returned across the Kirkstone as far as the Kirkstone pub and took the road known as the 'struggle', which was not really a struggle, as far as Ambleside, a lovely town. Alas we encountered the first big pothole, surrounded by a team of tarmackers, high vizzed to the hilt and the inevitable two mile tailback, on our way back to Windermere. This is when you delight in the jamb busting ability of two wheels versus four, as one can, let's say; ease your way to the front. Windermere is a nice town, but there's more life in Bowness, a town about five minutes further south. We would consider staying there next time. We ate in a pub called "The Pig" Coincidentally it serves a plethora of dishes with pork in them –cooked of course. An early night was in order as we would tackle the Passes the next day.
Before the ascent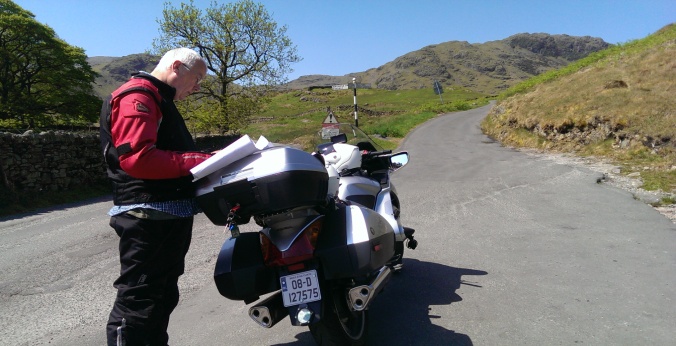 The Honister was the first on the list which meant taking A591. There was sunshine from the start .A good time to experiment with the Pro cam for the first time. A word of advice would be ,"Do not to forget that it records sound!" A few ' fssss' were discovered later on the recording at the top of the pass. Ger had to be convinced that buying a load of slate at the Slate mine at the top was not the greatest idea ever? Ryanair baggage rules had to be implemented. There were some fantastic views on the way.
Back to Keswick and then the big one. We travelled via Little Langdale en route to the biggies. The warning sign at the start does say 30% incline! It didn't mention the hairpins. Hairpins with 30%? The answer is yes. Well the Wrynose was a warmer upper for the Hardknott Pass. All went well –No passenger or cameras lost. More effing. All the effing in the world doesn't get you up that hill. The joys of the intercom. (Cardo Scala ) The view from the top was amazing, You must stop to appreciate it. Next on to Broughton in Furness for a meat pie and tea to settle the nerves. Lots of little black lambs in the fields on route. Beautiful stone farmhouses and sheds.
Closer to sea level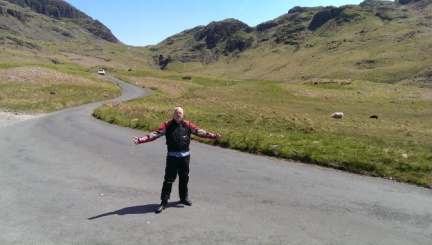 Hardknott warning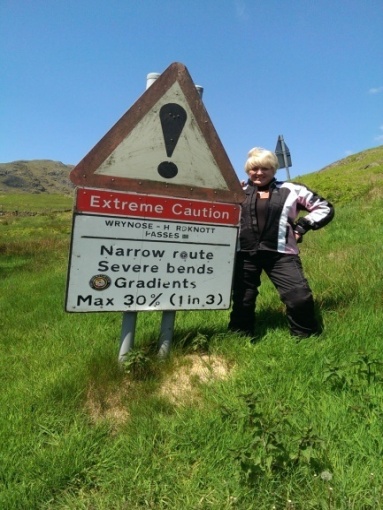 The next stop on the literary trail was Hilltop Farm, home of Beatrix Potter.We stopped off in Hawkshead on the way. We were late for the house tour and had to make do with a ramble in the small garden and the shop - another one! With two extra rabbits, Peter and Flopsy, on board we headed for the ferry to take us across Lake Windermere back to Bownes. The rabbits travelled for free. We had a short pit stop here for more tea etc, before returning to base.
Next morning, with all bags and rabbits on board, we left the lakes and headed east towards Kendal and the Dales. The sun was an early riser. We made our way along the A684 to Sedbergh and Hawes.Hawes is a lovely place for a stop at the lower end of the town. If you like your cheese, there's no shortage of Wensleydale here. We lost the sun for a while but it was still pleasant enough.
The Aysgarth Falls, further on, merited another stop for the obligatory few snaps. We must be up to 200 by now. Heading south now to Buckden, another pretty village. Our final destination was Kettlewell where we would stay for the night. Kettlewell has three lovely old style pubs that serve food to a good standard. We discovered that it is a very popular stop for bikers out for a spin. Plenty of outside seating for the tea and smokes. Our host suggested we go and see Arncliff about fifteen minutes ride away, home of the original Emmerdale set in Amos's day. Beautiful sunshine all the way there and a stop at the Woolpack , now called The Falcon. More tea etc.
Day four took us south to Skipton with its beautiful medieval castle that is fully restored. Next was onto the A 59 and headed for Clitheroe which has a smaller castle but has no roof etc. We loitered outside a shop for a moment with the engine running, pondering our next move,when the owner suddenly ran out and declared, "I knew it was a Pan. She wasn't referring to the daily slices, but the Honda Pan European. That sound brought back fond memories for her of the pan, owned by an old boyfriend. We hit the motorway and landed in Liverpool to stay at the Ibis Hotel. Still 23c.
Perfect location to explore the Albert Dock area where we saw a super blend of old and new. Onwards on foot to pay homage to the Fab. 4. after a nice Wetherspoon curry. The Cavern quarter was a hive of activity with music exploding from all establishments. We had to deploy the trusted earplugs. The Cavern is a must do if you are in the area. It was hopping with great music- Beatles of course. Too much sun does quare things with the mind. It was still mid afternoon. Liverpool was a surprisingly great place to visit.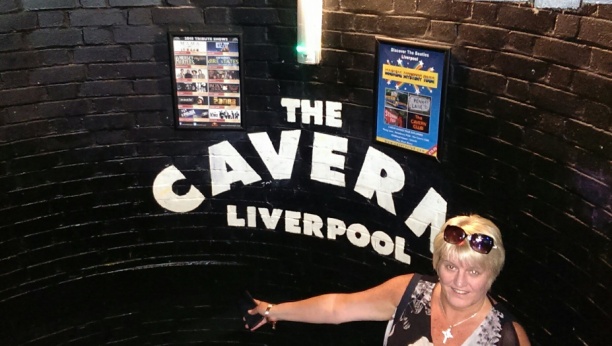 Day five brought some rain for our journey towards Holyhead. We had time to spare for a quick visit to Chester and even in the rain it didn't disappoint. On to Conwy for the obligatory seaside fish n chips. Holyhead port was the last stop to wait for a behind schedule ferry. We met a man returning from Newmarket with a mare who had just had a one night stand with Frankel. How romantic is that?
It was a most enjoyable trip with fantastic weather for the most part. The rabbits are doing well. Pan is resting for the next little adventure. 666 miles travelled
You are here:  

Uncategorised